Along with the Department of Environment, Land, Water and Planning, the Ararat Rural City Council, Northern Grampians Shire Council and the Pyrenees Shire Council, we are investigating the feasibility of extending the Wimmera Mallee Pipeline to provide water to the farm gate in the region surrounding Ararat where groundwater and surface catchments are unreliable.
If feasible, a pipeline extension will reach into agricultural areas where traditionally there has been reliable rainfall. With the prospect of an ongoing drier climate, agricultural productivity and growth could be enhanced in this region by the installation of a reticulated water delivery network.
A piped water supply could also provide ongoing water security for townships in the region as well as significant economic, social, recreational and environmental benefits to the region.
Status Update
We are writing to landholders seeking Expressions of interest for connecting to the proposed East Grampians Rural Water Supply Pipeline. Letters will be sent to landholders in the Ararat, Northern Grampians, and Pyrenees Shire regions this week to gauge the level of interest from landholders in this area.
Expressions of Interest for the project close Monday 8 May, 2017.

Download our East Grampians Rural Water Supply Pipeline information package (11MB, 20 pages)

East Grampians Rural Water Supply Feasibility Project (4.2MB, 4 pages)
Information sessions
We will be holding information sessions for interested landholders as follows:
| | | |
| --- | --- | --- |
| Wednesday 3 May 2017 | | Thursday 4 May 2017 |
| 9 am - Moyston Post Office | | 9 am - Tatyoon Fire Station |
| 11 am - Willaura Bakery | | 10.30 am - Cross Roads Fire Station |
| 2 pm - Westmere Fire Station | | 12 noon - Buangor Fire Station |
| 3.30 pm - Maroona Primary School | | 2 pm - Warrack Fire Station |
| | | 3.30 pm - Great Western Fire Station |
These sessions will provide you with information on how to register your interest to connect to the pipeline if it is to proceed, or answer any questions you might have about the feasibility project.
There will be no need for an appointment - just drop in to chat to one of our staff members.
If you are unable to attend one of these sessions and are interested in connecting to the pipeline or would like more information, please call us on 1300 659 961.
Service area
The project area to be investigated encompasses approximately 3,650 square kilometres of land east of the Grampians. The area under investigation extends around Ararat, past Willaura and just north of Lake Bolac, then across to Westmere and Streatham, as far east as the Eurambeen-Streatham Road.
The area under consideration falls mainly within the boundaries of the Ararat Rural City Council, with some areas of the Pyrenees Shire and Northern Grampians Shire being considered with the final area being largely determined by the extent of landholder interest.
If sufficient interest in the vicinity of the project area nominated is obtained, a detailed design will take place to provide piped water to the farm gate.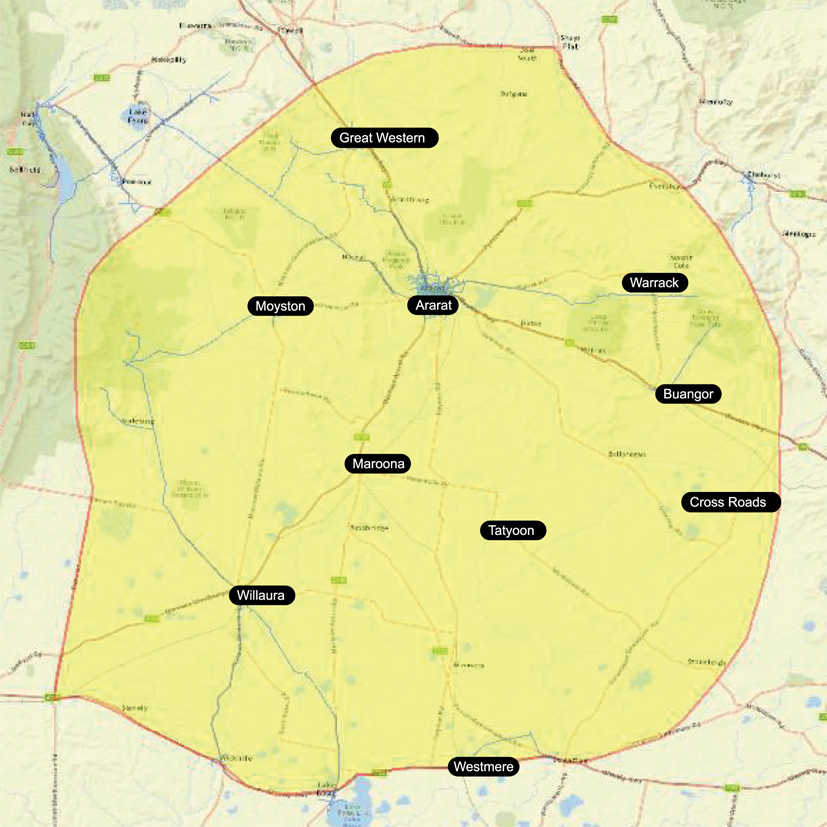 View the East Grampians Rural Water Supply Pipeline boundary (1.5MB)
Benefits to the community
A pipeline providing water to currently unserviced areas could:
allow existing agricultural enterprises to consolidate and expand knowing they have access to a reliable, high quality water supply 24 hours a day, 7 days a week.
encourage new enterprises and investment to the region with the certainty of continued access to water.
improve the security and quality of water supply to the townships of Maroona, Westmere, Streatham, Tatyoon and Ross Bridge.
increase environmental/cultural benefits associated with local landscapes, waterways and wetlands by relieving some of the reliance on catchment dams to intercept water.
Read some case studies about how connecting to rural piped water has benefited landholders in our community.
Connect to the pipeline
Landholders within the project boundary are encouraged to lodge an Expression of Interest to connect to the pipeline.

Download the Expression of Interest form for the East Grampians Rural Pipeline (966kB, 2 pages)
More information about connecting to the East Grampians Rural Pipeline