Along with the Department of Environment, Land, Water and Planning and the West Wimmera Shire Council, we are investigating the feasibility of extending the Wimmera Mallee Pipeline to provide water to the farm gate in the south east region of the West Wimmera Shire, where groundwater and surface catchments are unreliable.
If feasible, a pipeline extension will reach into agricultural areas where traditionally there has been reliable rainfall. With the prospect of an ongoing drier climate, agricultural productivity and growth could be enhanced in this region by the installation of a reticulated water delivery network.
A piped water supply could also provide ongoing water security for the townships of Edenhope and Harrow as well as significant economic, social, recreational and environmental benefits to the region.
Status Update
Expressions of interest have been received from over 50 landholders in the area. We will be sending out letters to landholders in the northern section of the Southern Grampians Shire in the coming weeks to gauge further levels of interest from landholders in this area.
A community engagement committee is also being formed to help inform the Project Steering Committee of issues and concerns being raised from landholders, the community or stakeholders. If you are interested in joining the committee, please complete an expression of interest form and return it to West Wimmera Shire.
Landholders around the project boundary that are still interested in securing their water supply that have not yet lodged an expression of interest form are encouraged to do so.
Information sessions
We invite interested landholders in the vicinity of the below areas to attend an information drop-in session on the West Wimmera Rural Pipeline Feasibility Project.
| | | | | |
| --- | --- | --- | --- | --- |
| Balmoral | | Englefield | | Mooralla |
| Brit Brit | | Gatum | | Pigeon Ponds |
| Cherrypool | | Glenisla | | Rocklands |
| Coojar | | Gringegalgona | | Tarrayoukyan |
| Culla | | Melville Forest | | Vasey |
Information drop-in sessions will be held on Wednesday 15 March 2017 as follows:
> 10 am - Pigeon Ponds CFA Shed 3388 Coleraine-Edenhope Road, Pigeon Ponds
> 12 noon - North Balmoral CFA Shed 357 Five Ways Road, Balmoral
These sessions will provide you with information on how to register your interest to connect to the pipeline if it is to proceed, or answer any questions you might have about the feasibility project.
There is no need for an appointment - just drop in to chat to one of our staff members.
If you are unable to attend one of these sessions and are interested in connecting to the pipeline or would like more information, please call us on 1300 659 961.
Service area
The project area to be investigated encompasses the south eastern corner of the West Wimmera Shire, extending from Rocklands Reservoir to Edenhope across to Wombelano and down towards Balmoral.
The project area is not defined as it will be determined by the extent of interested landholders.
If sufficient interest in the vicinity of the project area nominated is obtained, a detailed design will take place to provide piped water to the farm gate.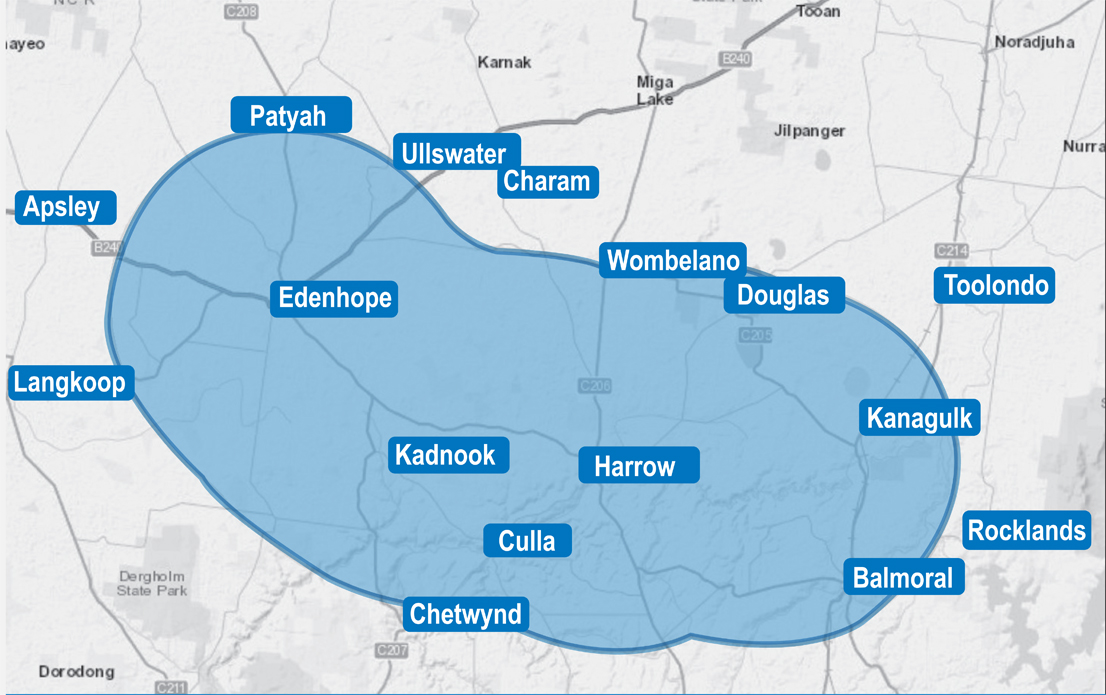 View map of West Wimmera Rural Pipeline Moundary Map (774kB)
Want to be involved more?
West Wimmera Shire Council is appointing a community engagement committee to represent the broader views of landholders, local businesses and representatives of recreational, indigenous and environmental groups.
If you have an interest in representing your community on the committee, please lodge a application to join the community engagement committee and return it to the West Wimmera Shire Council.
Benefits to the community
A secure water supply to the West Wimmera area will deliver many potential benefits:
allow existing agricultural enterprises to consolidate and expand knowing they have access to a reliable, high quality water supply 24 hours a day, 7 days a week.

encourage new enterprises and investment to the region with the certainty of continued access to water.

improve the water supply security to the townships of Harrow and Edenhope.

increase environmental benefits for local waterways and wetlands by removing the reliance on catchment dams, which may enhance inflows into the Glenelg River.

provide recreational and social benefits with the possibility of releasing some water into Lake Wallace or alternative waterbodies.
Read some case studies about how connecting to rural piped water has benefited landholders in our community.
Connect to the pipeline
Landholders within the project boundary are encouraged to lodge an Expression of Interest to connect to the pipeline.

Download the Expression of Interest Form (939kB).
More information about connecting to the West Wimmera Rural Pipeline