Following the construction of the Wimmera Mallee Pipeline, the channel system and the infrastructure GWMWater used along the Dunmunkle Creek to operate it, became redundant.
GWMWater is responsible for decommissioning the redundant structures between Glenorchy and Boolite to return the creek to as close to its natural state as practical.
The project area starts at Glenorchy at the south end of the creek, to Boolite in the north.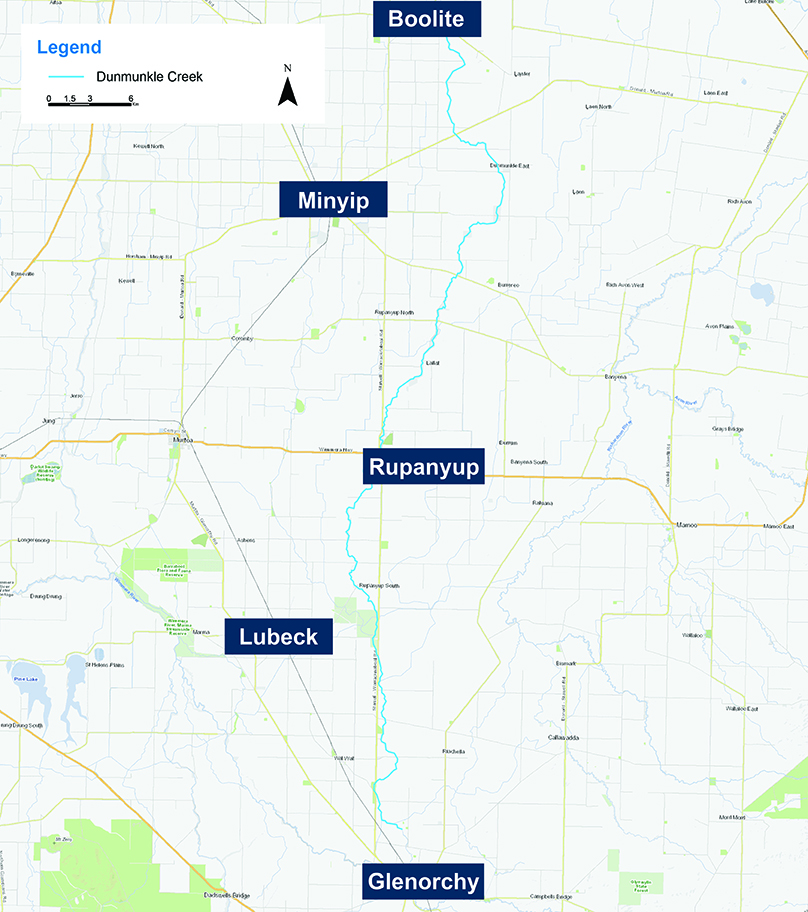 Dunmunkle Creek Project Map
GWMWater has inspected all assets and developed recommendations for each to either remove, partially remove or transfer the management of assets to other organisations or landholders.
This includes structures such as bridges, culverts, regulators and other structures.
The project also requires earthworks along the remaining channel banks to help slow and disperse water flow.
GWMWater has appointed a Project Steering Committee which works collaboratively to oversee the decommissioning or handing over of assets and includes representatives from GWMWater and:
Wimmera Catchment Management Authority
Northern Grampians Shire Council
Yarriambiack Shire Council
Department of Environment, Land, Water and Planning
Regional Roads Victoria
Landholder representatives: Howard Cooper of Glenorchy, Ian Taylor of Lubeck and Jason Mellings of Boolite.
Our landholder representatives will provide an important conduit between the community and the project team. If you would like to get in touch with any of the three landholders representatives, please call 1300 659 961 or This email address is being protected from spambots. You need JavaScript enabled to view it. to have your call or email re-directed.
We will work closely with the landholders to explain the proposed works and the terms of any removal or transfer of assets as well as the installation of breaks along the creek. We plan to contact landholders to start discussions about how the project may impact their property according to the below timeframe. Please note, this timeframe is subject to change and is indicative only.
| | |
| --- | --- |
| Property location between | Discussion commencement not before |
| Wimmera River and Bryntirion Forest | Monday 1 June 2020 |
| Bryntirion Forest and Rupanyup | Monday 8 June 2020 |
| Rupanyup and Switchback Road | Monday 15 June 2020 |
| Switchback Road and Lawler Road | Monday 22 June 2020 |
If this timeframe does not suit, or you haven't heard from us within the month of June, please This email address is being protected from spambots. You need JavaScript enabled to view it..