The East Grampians Rural Pipeline will secure the future of the region by providing a reliable, secure supply of high-quality water year-round.
Access to reliable, high-quality water supplies will help to provide growth opportunities and reduce risk, enabling existing agricultural enterprises to consolidate and expand, and providing opportunities for new enterprises to be developed.
A piped water supply would also provide ongoing water security for townships in the region as well as significant economic, social, recreational and environmental benefits to the region.
Latest Update
Sign up for East Grampians Rural Pipeline Project e-News updates
The East Grampians Rural Pipeline quarterly e-Newsletter will give you all the latest updates on the progress of the project, sign up now
GWMWater has appointed Wangaratta-based Dunstans Construction Group to deliver early work for the East Grampians Rural Pipeline. Dunstans will be working through the planning approvals and design prior to commencing construction. Interest sub-contractors should register their interest via the Dunstans Employment and Supplier Portal.
Landholders are encouraged to return Heads of Agreement documents as soon as possible to inform the design of the pipeline network.
Service area
On completion, the scheme may service up to 1500 rural farming properties over an area of up to 330,000 hectares with a reticulated non-drinking water supply. The area under investigation includes areas around Ararat, Great Western, Buangor, east to the Eurambeen-Streatham Road and south to the Glenelg Highway.
Landholders interested in receiving a rural untreated water supply in both the full and reduced project areas are encouraged to submit an expression of interest form to assist with planning the route and location of connection points.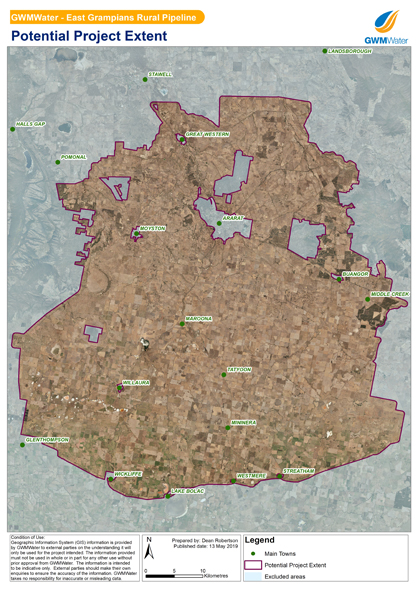 View East Grampians Rural Water Supply Pipeline boundary map (4MB)
What you need to know
We have created a series of fact sheets which will help you with what you need to know and do to connect to the East Grampians Pipeline.

East Grampians Rural Pipeline - Overview (3MB, 2 pages)

East Grampians Rural Pipeline - Planning (6.5MB, 3 pages)

East Grampians Rural Pipeline - Connection (6.4MB, 4 pages)
Connect to the pipeline
Landholders within the project boundary are encouraged to lodge an Expression of Interest to connect to the pipeline.
Our Landholder Liaison team are available on a regular basis from our Ararat office. You can stop by to chat to one of our friendly team members and ask questions about the project. There's no need to make an appointment.
Date
Time
Location
Wednesdays
throughout the project
9.30 am to 3 pm

GWMWater Ararat Office
26 Maude St, Ararat

Landholders still interested in the project that haven't registered an expression of interest are still encouraged to do so.

Download the Expression of Interest form for the East Grampians Rural Pipeline (966kB, 2 pages)
On-Farm Water Reticulation Guide
We've published a comprehensive On-Farm Water Reticulation Guide to help you design and install your on-farm system. The guide provides practical and technical advice covering all aspects of a piped on-farm system. Download a copy or contact us to get your free printed copy of the guide.

On Farm Water Reticulation Guide
Online water calculator available
To assist landholders with calculating water requirements, we encourage landholders to use Agriculture Victoria's water calculator by visiting their website at http://calculator.agriculture.vic.gov.au/fwcalc/step/home
Benefits to the community
A pipeline providing water to currently unserviced areas could:
allow existing agricultural enterprises to consolidate and expand knowing they have access to a reliable, high quality water supply 24 hours a day, 7 days a week.
encourage new enterprises and investment to the region with the certainty of continued access to water.
improve the security and quality of water supply to the townships of Maroona, Westmere, Streatham, Tatyoon and Ross Bridge.
increase environmental/cultural benefits associated with local landscapes, waterways and wetlands by relieving some of the reliance on catchment dams to intercept water.
Read some case studies about how connecting to rural piped water has benefited landholders in our community.
Pipeline in the news...
Stawell Times-News/Ararat Advertiser

14 May 2019, Pipeline Secured (207kB)

27 October 2017, Pipeline plan well received (99kB)
18 October 2017, Victorian Water Minister Lisa Neville receives final business case for East Grampians Water Supply pipeline (external link)

13 October 2017, Pushing for water pipeline (332kB)

13 October 2017, Pushing for water pipeline (333kB)
Wimmera Mail-Times

29 October 2017 - State, Federal Governments hear Wimmera Mallee Pipeline extension proposal (152kB, 2 pages)



16 October 2017, Push to extend the water pipeline west (267kB)
Minister for Water, Lisa Neville

Minister for Water Media Release - Water Security For East Grampians Farming Communities (154kB)
Member for Wannon, Dan Tehan
12 May 2019, Unlocking Regions Potential (external link)
Premier of Victoria
12 October 2017, Water Security For East Grampians Farmers and Communities (external link)
GWMWater

Media Release - Field investigations commence for East Grampians Rural Pipeline project - October 2018 (kB)