GWMWater, working with the West Wimmera Shire Council, is investing in Goroke to provide a sewerage system. The Goroke Sewerage Scheme will provide residents with a reliable, and effective wastewater collection and treatment system. The sewerage scheme will use current septic tanks on properties and deliver a reliable and effective wastewater collection and treatment system which will contribute to the prosperity and future growth of the town.
For information about the relevant charges that will apply, as well as concessions or subsidies available see our Goroke Sewerage Scheme charges and subsidies 2023/24 overview. If you need more information, or need support to apply for subsidies, please call our Customer Service Team during business hours on 1300 659 961.
Stage 1
Construction of Stage 1 of the Goroke Sewerage Scheme was completed in October 2021. In March 2022 the Goroke Wastewater Treatment Plant was completed. Customers within Stage 1 can arrange connection to the new sewerage system and should seek quotes from a licenced plumber before applying to connect.
Information about how to connect is available in this Fact sheet - How to Connect - Goroke Sewerage Scheme.
Stages 2 and 3
Contractor S&R Engineering and Construction will be in Goroke during December 2023 to complete inspection and planning works, as well as surveying the Stage 2 area.
Work on site is expected to commence in late January 2024, with the contractor installing the reticulation network of the STED (Septic Tank Effluent Drainage) system. This network will facilitate the transfer of wastewater from customer's existing septic tanks to Goroke's Wastewater Treatment Plant located on Kiely Street, Goroke.
Sewer connection works for the Goroke Caravan Park to support upgrades to the septic tank system at the caravan park has been completed.

Media Release - Goroke Sewerage Scheme Works Progress
Goroke Sewerage Scheme - Stages 1, 2 and 3 Map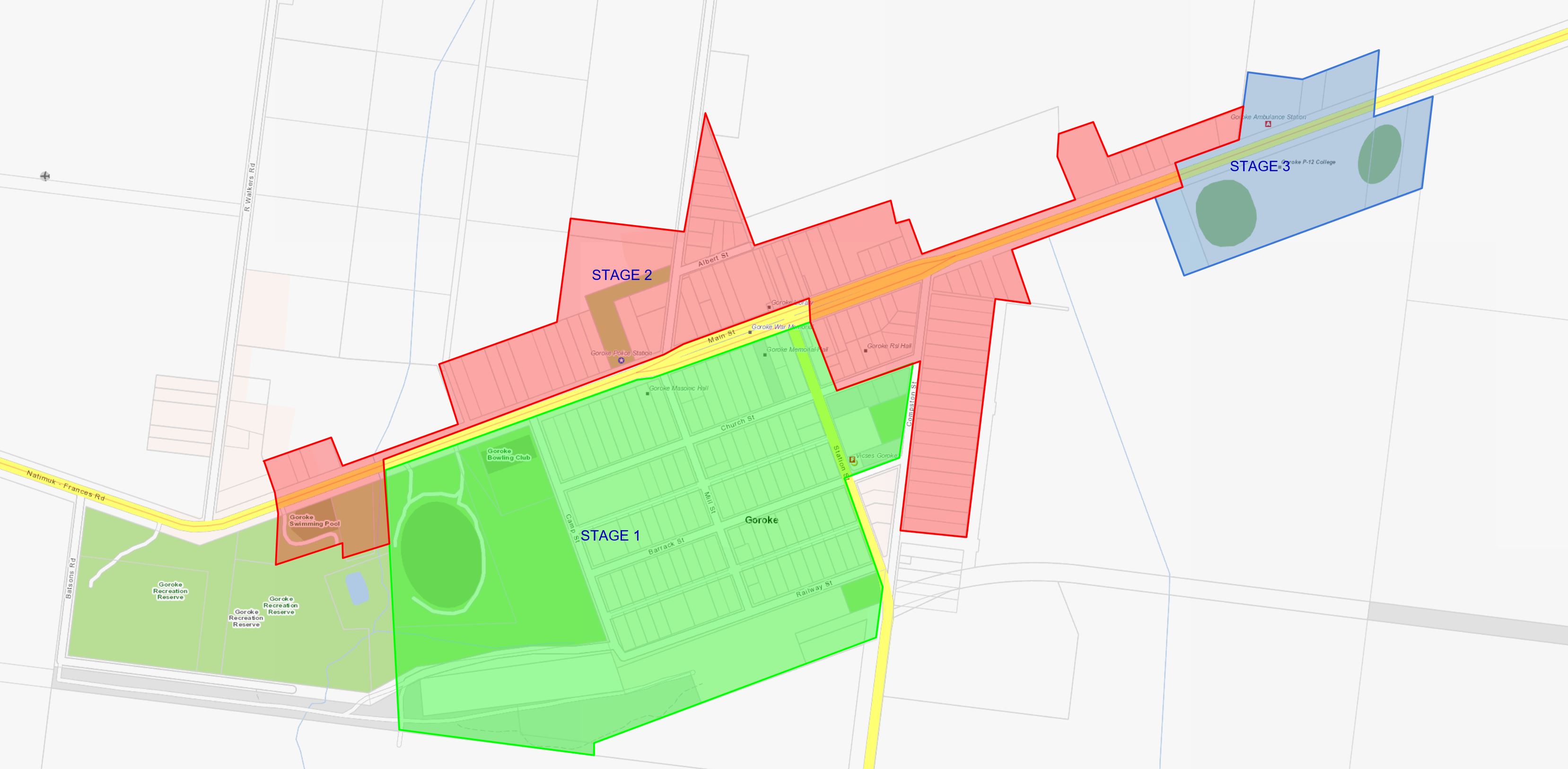 FAQs - Goroke Sewerage Scheme - updated 3 August 2023

Media Release - GWMWater to improve the environmental health of Goroke

Terms of Reference - Goroke Sewerage Scheme