GWMWater is reviewing the method of delivery for the construction of the eastern Grampians pipeline.
Cape Dunstan were awarded the early works contract to deliver the design and undertake the work necessary to secure the alignment of the pipeline corridors and nominate sites for facility assets such as pump stations and storages.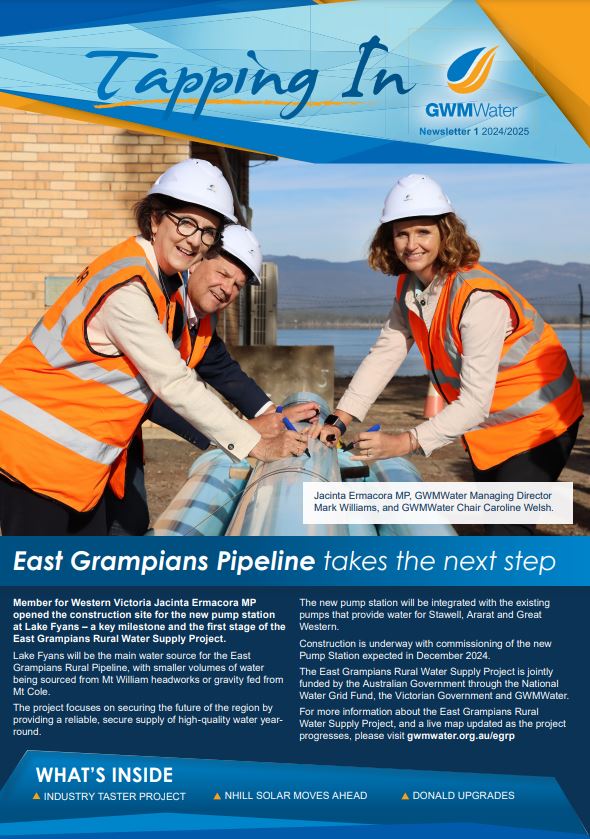 Keep track of the rainfall across the year, all in one place, with this handy chart.
Charts are available for collection from our McLachlan Street office in Horsham. If you are unable to make it into our office to collect a chart, please call our friendly team on 1300 659 961 and they will be able to assist.
If you'd like to print your own copy, you can download the chart here - Rainfall Record 2024
GWMWater has awarded a tender to Envirotech Water Solutions to upgrade the pump station at Lake Fyans. This will be the first stage of construction of the East Grampians Rural Water Supply Project.
Lake Fyans will be the main water source for the East Grampians pipeline, with smaller volumes of water being sourced from Mt William headworks or gravity fed from Mt Cole.
GWMWater has entered into an agreement with Vibe Energy to co-develop a Renewable Energy Facility at Nhill.
It is the organisation's first venture into larger scale energy generation with direct connection into the local electricity grid and will offset 70% of GWMWater's total electricity demand.
The facility, which includes a 2.75 MW (6 MWh) battery, will be located off the Western Highway, behind the Nhill Trailer Exchange, and generate 6.2 MW of solar energy. This is the equivalent of around 1,000 residential rooftop systems.
Construction will commence once planning approvals are finalised and the facility is expected to be operational by the end of 2024.
eNotices is an online portal which allows you to register, view, and pay your water bill online.
To register, simply find the eNotices logo (below) on your water bill from October 2023 and use the code to register at gwmwater.enotices.com.au. From January 2024, your water bill will then be emailed to you and you will be able to pay online.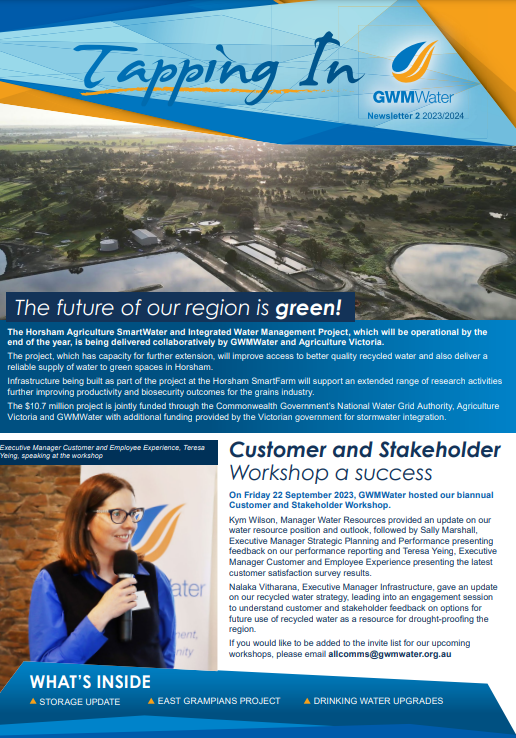 Our current edition of

Tapping In Edition #2 2023/24 features an update on the Horsham Agriculture SmartWater and Integrated Water Management Project, East Grampians Rural Water Supply Project, and our drinking water upgrade projects. Other articles include an update on reservoir levels and our National Water Week poster competition.
Don't forget to enter our competition for your chance to win $100 off your account!
For Terms and Conditions, and past winners of our competitions please click here.
To view past Tapping In editions, click on the heading.
GWMWater completed maintenance works on Lake Bellfield outlet infrastructure in the week of 4 to 10 September, successfully utilising reverse-pumping on the Wimmera Mallee Pipeline whilst the lake was taken offline to undertake the work.
Lake Bellfield is the main supply source for the Wimmera Mallee Pipeline. Maintenance works were undertaken to inspect the internal outlet pipe and replace the bypass valve.
GWMWater has invited tenders for the construction of a new pump station at Lake Fyans, a key piece of infrastructure for the East Grampians Rural Water Supply Project.
Earlier this year, the power supply at Lake Fyans pump station was upgraded in preparation for a new pump station. The new pump station will be the first stage of the East Grampians Rural Water Supply project to be constructed.
Water and wastewater customers across the Grampians, Wimmera and Mallee are invited to have their say at GWMWater's Customer and Stakeholder Workshop.
The workshop will be held between 10 am and 1 pm on Friday 22 September 2023 at the Horsham Golf Club, with an option to join online.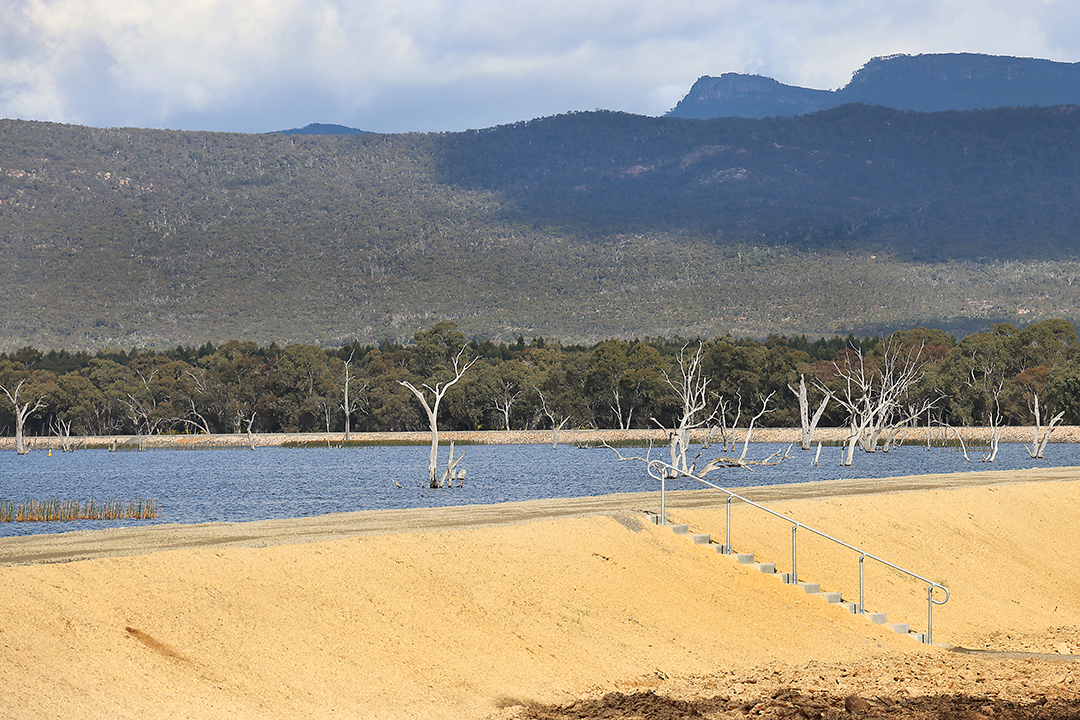 Recreational water users will reap the rewards of a new and improved lake experience now that Lake Fyans upgrades are complete.
Back to top