Along with the Department of Environment, Land, Water and Planning, the Ararat Rural City Council, Northern Grampians Shire Council and the Pyrenees Shire Council, a business case has been developed to extend the Wimmera Mallee Pipeline to provide water to the farm gate in the region surrounding Ararat where groundwater and surface catchments are unreliable.
If sufficient funding is available for the project, a pipeline extension will reach into agricultural areas where traditionally there has been reliable rainfall. With the prospect of an ongoing drier climate, agricultural productivity and growth would be enhanced in this region by the installation of a reticulated water delivery network.
A piped water supply would also provide ongoing water security for townships in the region as well as significant economic, social, recreational and environmental benefits to the region.
Status Update
Following the announcement of partial funding for the East Grampians Rural Pipeline, GWMWater has commenced survey work to identify preferred routes for the pipeline network.
While only half of the initially proposed East Grampians Rural Pipeline project has been funded to date, field investigations will be carried out across the entire potential service area, to allow efficient progress should further funding become available.
In the interim, it is essential that landholders across the region register Expressions of Interest in connecting to the pipeline to ensure they are included in design process.

Minister for Water Media Release - Water Security For East Grampians Farming Communities (154kB)

Newsletter - East Grampians Rural Pipeline - Project Overview (2.8MB , 2 pages)

Fact Sheet - East Grampians Rural Pipeline Project - Securing the future of the region (654kB, 3 pages)

Media Release - Field investigations commence for East Grampians Rural Pipeline project - October 2018 (kB)
Landholders still interested in the project that haven't registered an expression of interest are still encouraged to do so.
See how to connect to the East Grampians Rural Pipeline here
Service area
On completion, the full scheme may service up to 1500 rural farming properties over an area of up to 530,000 hectares with a reticulated non-drinking water supply. The area under investigation includes areas around Ararat, Great Western, Buangor, east to the Eurambeen-Streatham Road and south to the Glenelg Highway.
The project concept aims to service rural properties within the full project boundary. Currently only half of the requested funding has been committed and a reduced project footprint has been developed to enable progression of the project. Both the full and approximate reduced project footprints are shown on the below map.
Landholders interested in receiving a rural untreated water supply in both the full and reduced project areas are encouraged to submit an expression of interest form to assist with future planning.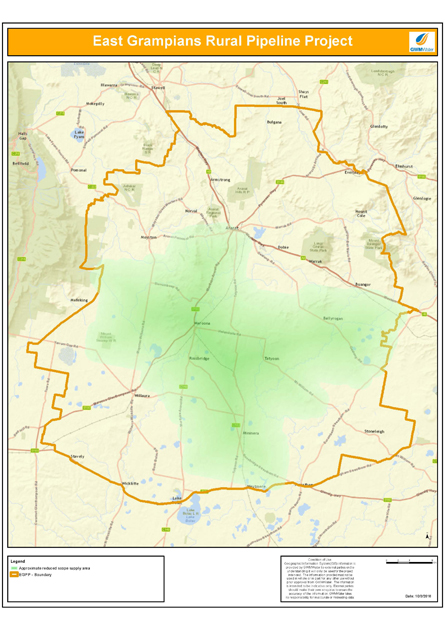 A printable copy of this map is available on

Fact Sheet - East Grampians Rural Pipeline Project - Securing the future of the region (654kB, 3 pages)

View East Grampians Rural Water Supply Pipeline boundary map (4MB)
Benefits to the community
A pipeline providing water to currently unserviced areas could:
allow existing agricultural enterprises to consolidate and expand knowing they have access to a reliable, high quality water supply 24 hours a day, 7 days a week.
encourage new enterprises and investment to the region with the certainty of continued access to water.
improve the security and quality of water supply to the townships of Maroona, Westmere, Streatham, Tatyoon and Ross Bridge.
increase environmental/cultural benefits associated with local landscapes, waterways and wetlands by relieving some of the reliance on catchment dams to intercept water.
Read some case studies about how connecting to rural piped water has benefited landholders in our community.
Connect to the pipeline
Landholders within the project boundary are encouraged to lodge an Expression of Interest to connect to the pipeline.

Download the Expression of Interest form for the East Grampians Rural Pipeline (966kB, 2 pages)
More information about connecting to the East Grampians Rural Pipeline